First, do not increase the risk yourself by using aggressive bot settings. Veles bots work stably with the basic strategies offered on the platform. Bots do not require tight control and bring a small but constant profit.
Trade with overlapping price changes of 50% or more.
Set the percentage of martingale in the order grid from 5% or more. This will lead to making a profit on smaller bounces in price. The higher the martingale percentage, the less price rebound is needed to get a profit.
Focus on a lower percentage of profit (0.5–1%), because several closed cycles with a profit of less than 1% are better than one unfinished one with a potential profit of 1.5%
In addition to Veles bot settings, pay attention to deposits 💰 Divide the deposit into parts to trade in different pairs and several bots.
Pay attention to reliable cryptocurrencies. If part of the deposit falls on the trading of such, the profit will be low, but stable and predictable ⬇️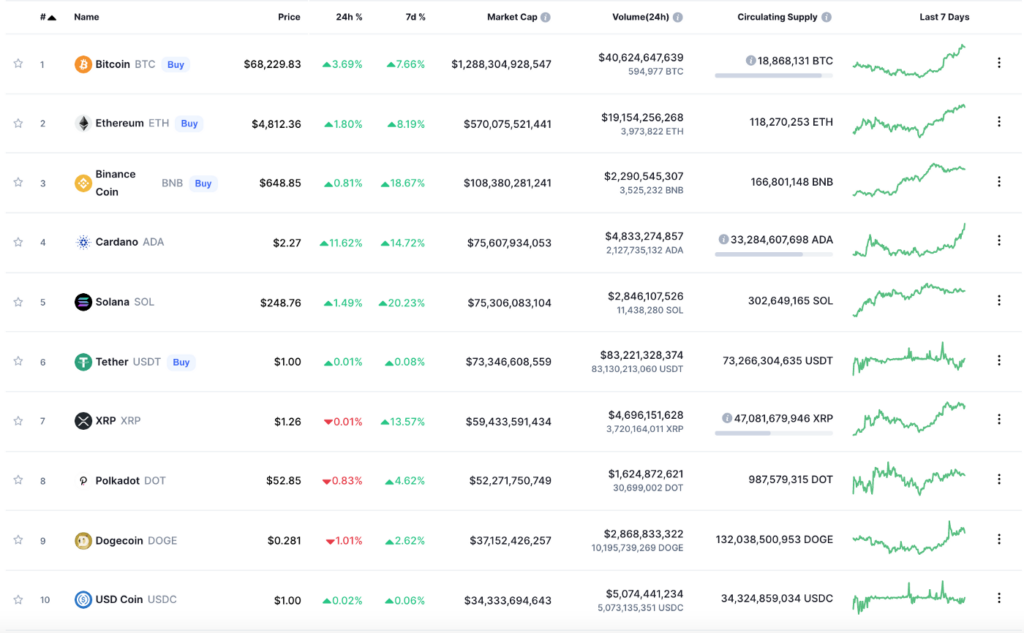 Top-25 coinmarketcap.com
Something should be allocated for trading a promising cryptocurrency 📈Even if the price changes significantly, it will be possible to trade in the other direction until the price returns to close the original trade with a profit.
What should you know about trading pairs? 🧐 Trading pairs must be chosen very carefully.
Choose a well-known cryptocurrency that seems promising and reliable to you.
Don't focus on cheap and unknown coins. They often change in price strongly and for a long time.
Don't ignore the bot start filters 👾 They are responsible for preventing bots from buying too early and expensive or selling early and cheap.
To set up filters, we introduced trading signals and indicators:
RSI, CCI, Bollinger Bands, MACD, EMA. Reflect the relative strength of the trend.
Indicator of the trading volume in 24 hours. It is not worth trading a coin whose trading volume for the last day is <500 BTC.
RB indicator shows the number of price fluctuations over a certain period of time.
Indicators of the presence of a pump / dump for certain periods of time.
At Veles, we take care of your profits and try to reduce the probability of any risks by providing ready-made trading strategies, helping you with setting up bots and, of course, publishing such materials with useful tips 💙
Any interaction with the exchange carries a certain percentage of risk, but trading with correctly configured bots is the easiest way to avoid most of the problems and mistakes.
We are waiting for you in our telegram channel. There you can find even more useful information about our bots, trading rules, settings and principles of our system.